DTVC41 Series Speed Dome Thermal Camera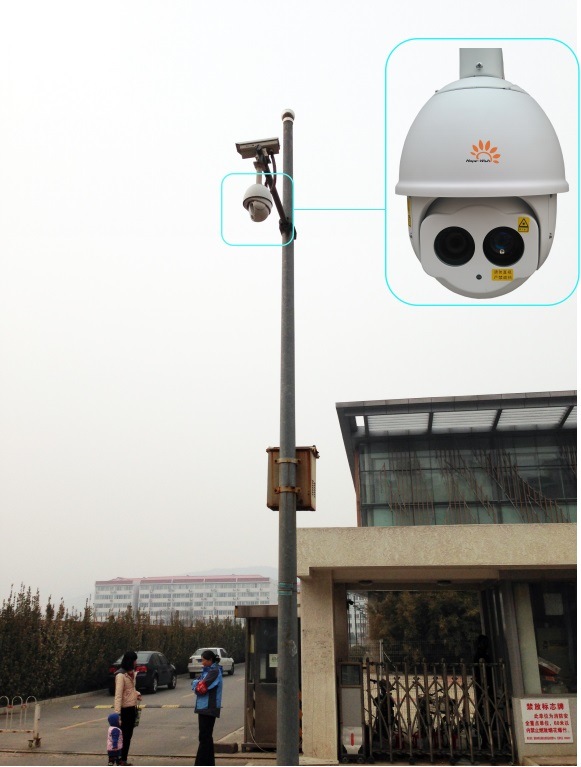 DTVC41 Series Speed Dome Thermal Camera
is developed on the basis of the 5
th
generation uncooled infrared technology and infrared optical imaging technology. With the application of high sensitive UFPA with 336*256 resolutions, state-of-the-art digital circuit and IPA, the camera is capable of providing users a premium image. The camera adopts mini IR lens and an AIO for its daytime monitoring, which significantly reduces its weight and enables it to rotate quickly.
Its detection distance can reach as far as 1km-2km. Featuring precise location, multiple presets, auto-focus, auto-patrol, the camera is surely your optimum choice.
Feature
Miniaturized CCD increases its zooming speed and enables auto focus.

50mk thermal sensitivity ensures its premium image and reduces the effect of severe weather conditions.

Unique AS optical design and high precision optomechanical design.

The 5

th

generation miniaturized detection technology significantly reduces its cost and dimension while still ensures its precision.

User-friendly graphical UI menu.

SDE image detail enhancement technology, no noise, B/W and B/W inverse color mode.

GSS heat dissipation system

.

Multi-row bearing design extends its service life.

Less than 0.01s alarm response ensures no omission.

Side dip switch offers you a convenient way to set address code and protocol.

Ingress protection: IP66; Lightning protection: TVS4000V.
Application
Expressway, railway, safe city, vehicle-mounted monitoring, harbor, airport, stadium, square, scenic spot etc..
Technical specification
Model
DTVC4101-1930-IP
DTVC4102-1930-IP
DTVC4103-1930-IP

Detection

Vehicle: 800m

Vehicle: 1700m

Vehicle: 2900m

Human: 300m

Human: 720m

Human: 1000m

Identification

Vehicle: 200m

Vehicle: 420m

Vehicle: 730m

Human: 80m

Human: 180m

Human: 300m

Thermal sensor

336*256, 5

th

generation UFPA, 50mk NETD, 7.5-14um spectral response

Thermal lens

9mm F1.0

20mmF1.0

30mmF1.0

FOV

35°X 27°

15.5°X 11.6°

10.4°X 7.8°

Visible camera

2.1 mega

pixels, 1/

2.8

''

CMOS

, auto color to B/W at 0.0

00

1lux

Lens

4.

3

mm-

129

mm,

30

X

optical zoom

, auto focus

PT

360° continuous pan, -90°-5° tilt

Rotation speed

Pan: 0.01°~200°/s; Tilt: 0.01°~120°/s, Max. speed for calling presets: 250°/s;

Preset

255, breakpoint memory

Auto mode

Preset/patrol/scanning/auto scanning/path/random scanning

Path

4 paths

Auto watch

Available homing time, preset, patrol, scanning, auto scanning, path and random scanning.

Menu

Multi-language UI with vivid icons and operational instruction

3D positioning

3D positioning(click to zoom in)

Information display

Time, direction, title, coordinates, temperature etc.

Compass

Automatic calculation of orientation

Timing start

Available for homing time, preset, patrol, scanning, auto scanning, path and random scanning.

Alarm

4 alarm inputs, 2 alarm outputs(optional)

Protocol

Pelco-P/D and other mainstream protocols

Online updating

Online updating through communication cable, low maintenance cost

Baud rate

2400/4800/9600/19200bps

Ingress protection

IP66, TVS1500V anti-lighting and anti-surge

Working environment

-30~60

ºC

, <90%RH non-condensing

Power supply

DC12V/4A

Dimension and weight

Φ230(mm)×348(mm), 5kg
* The detection distance is related to the object and environment etc. Please contact with us for further information.