Tiandy Super Starlight AR Panoramic Night Vision Alarm Auto Tracking 4K CCTV PTZ IP Camera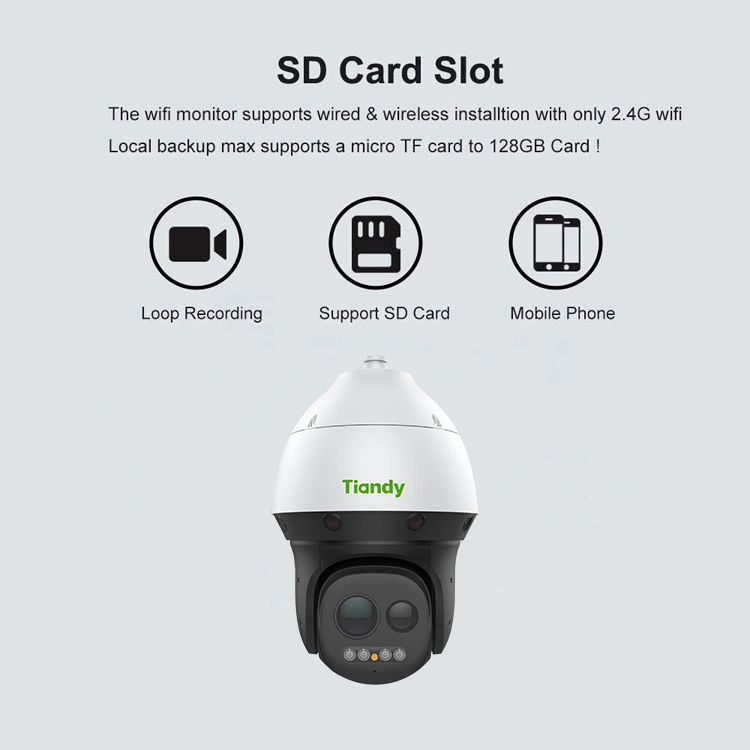 Features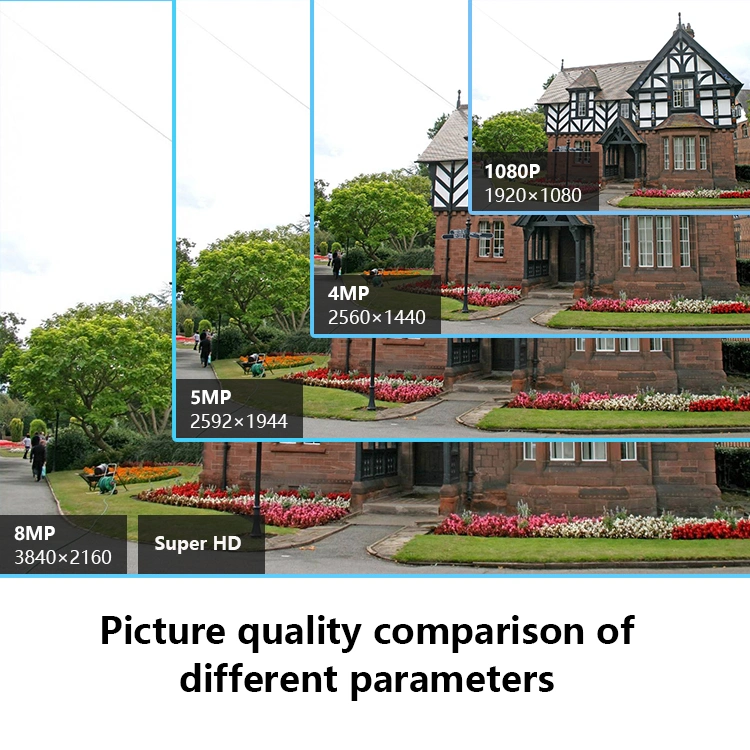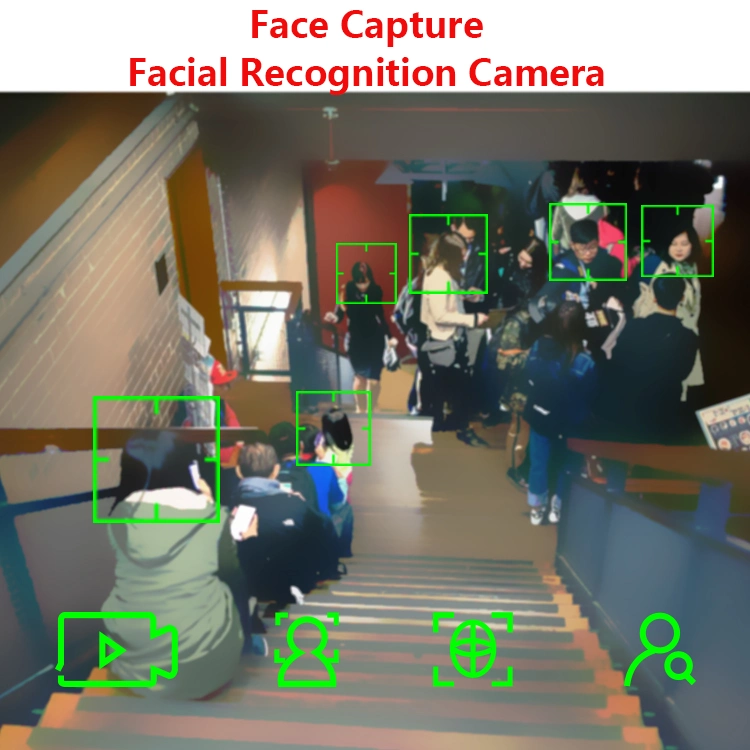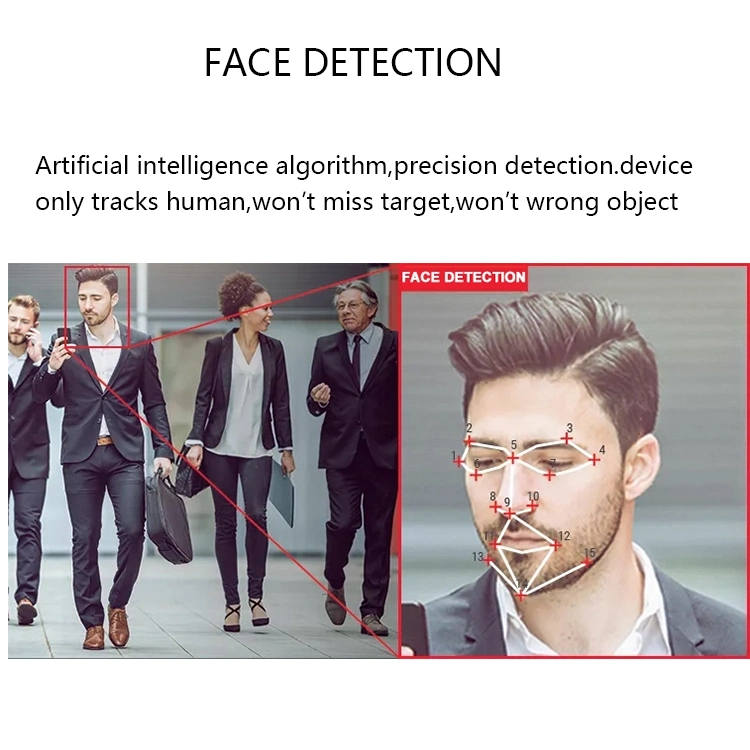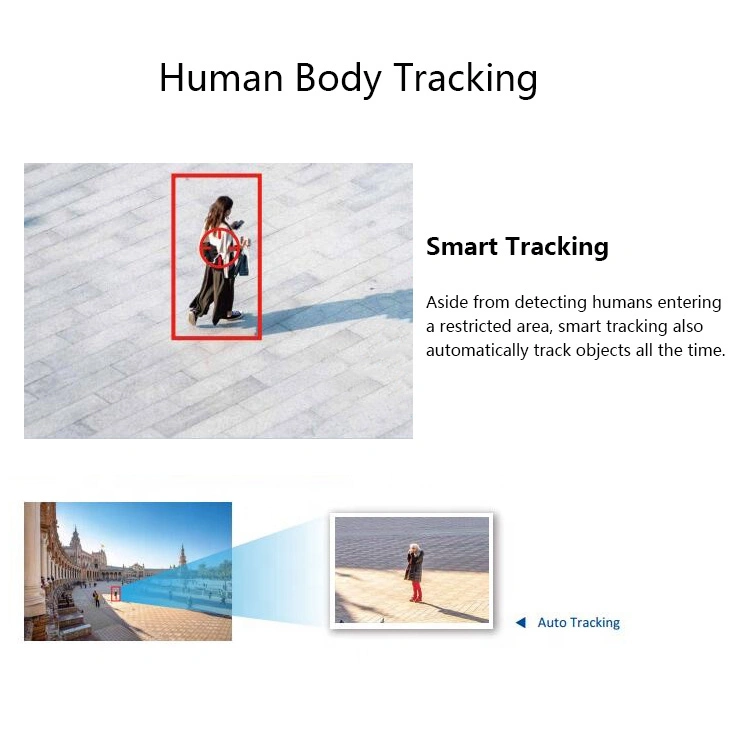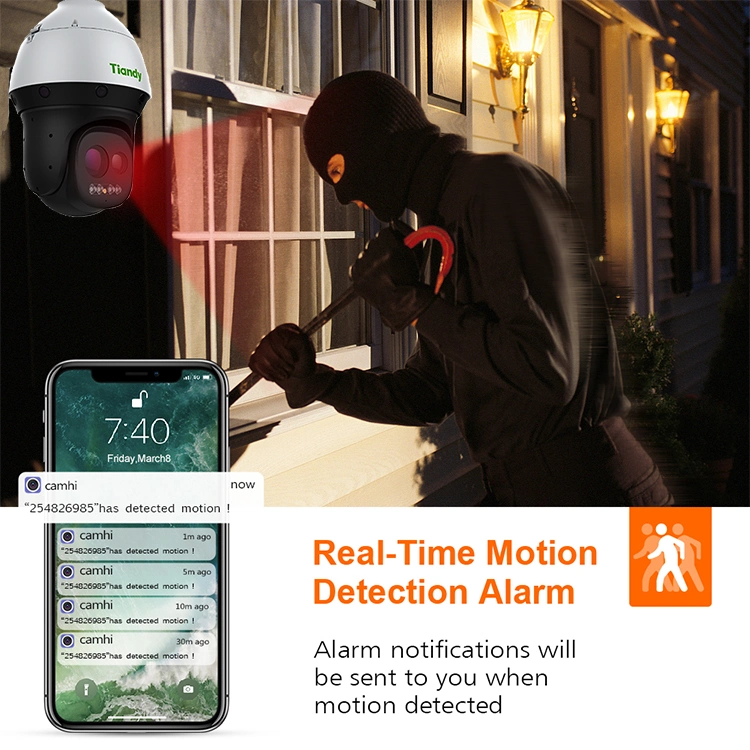 • The panoramic channel adopts 4 1/1.8" 2MP Progressive Scan CMOS, the highest resolution and frame rate can reach 4096 × 1800@30fps
• Panoramic viewing angle: 360° horizontally, 80° vertical
• The panoramic channel is equipped with 5mm@F2.2 optical lens
• The panoramic channel supports simultaneous output of three streams, and the maximum resolution of the main stream is 30fps (4096×1800)
• Panoramic channel supports heat map function
• Close-up channel 44x optical zoom
• Close-up channel supports 200m laser fill light
• Close-up channel precision motor drive, sensitive response, stable operation, accuracy deviation less than 0.4 degrees
• Support H.265, H.264 HP/MP/BP, M-JPEG encoding
• Support standard API development interface, support Tiandy SDK and Onvif access
• Support PAL/NTSC system switching, with good regional applicability
• Support close-up channel 3D positioning and panoramic channel 3D positioning functions, which can realize click tracking and zooming
• Support auto flip
• Support power down memory, timing restart
• Horizontal 360° continuous rotation, manual control speed: 0.1~160°/s, preset position accuracy 0.5° • Vertical rotation angle -16°~90°, manual control speed: 0.1~120°/s
• Support key control limit, proportional zoom function
• Support intelligent analysis
• The panoramic channel keeps track of the moving target that triggers the event in the set area within the set tracking time. And can manually switch the tracking target during the tracking
process, and proceed within the set tracking time
• IP66, TVS four-level lightning protection, anti-surge, anti-surge
• Security protection, 5 times of wrong password lock the device for 5 minutes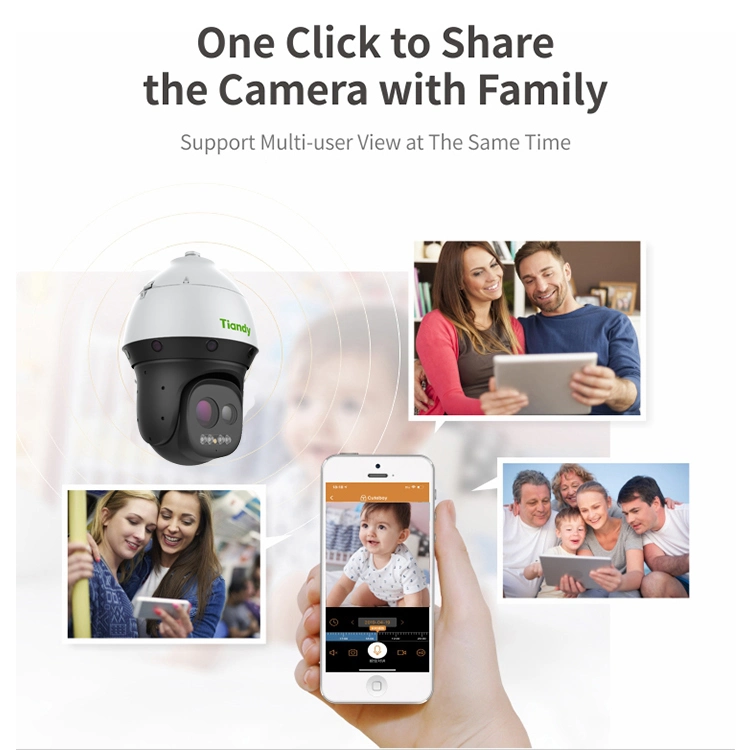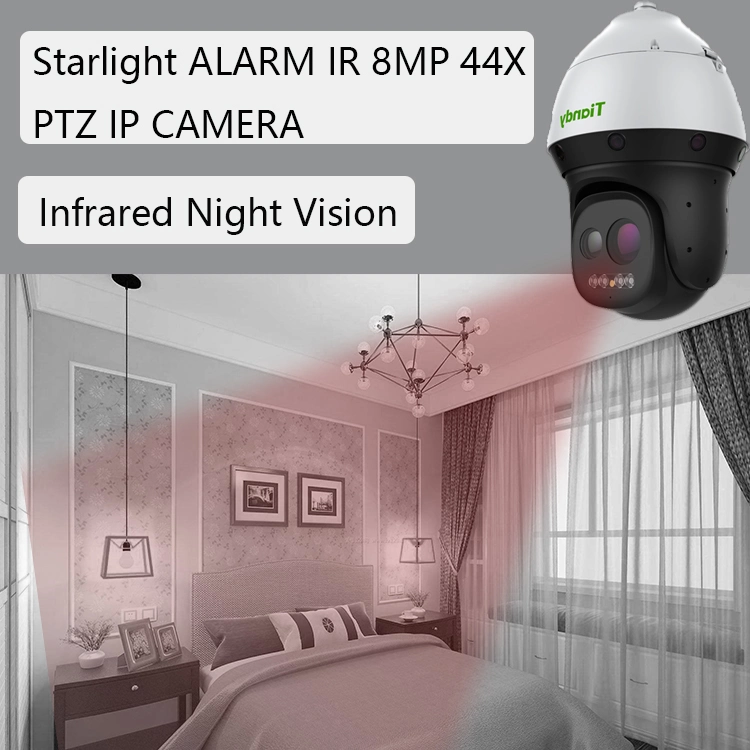 Specification
System

Panoramic target tracking

PTZ autotracking on target via set rules
Support to click to switch on different target and continue tracking

support, Laser-White light-speaker-autotracking-VCA

Area Intrusion, cross line, enter, leaving

Area Detect: Intrusion/enter/leaving, loitering, crowd, running, parking, Object leaving/abandant, Video mask/ LPR/ Face
detection, people counting, On-duty detection

Panoramic Cameras

1/1.8" Progressive Scan CMOS

50Hz:25fps (4096×1800,3840×1680,2720×1192),

60Hz: 30fps(4096×1800,3840×1680,2720×1192);

265/H.264/MJPEG
H.264 Baseline/Main/High Profile

Color:0.002 Lux@(F2.2,AGC ON)
BW:0.001Lux@(F2.2,AGC ON)

PTZ Cameras

1/1.8" Progressive Scan CMOS

50Hz:25fps(1920×1080,1280×960,1280×720,704×576,
604×480)
60Hz:30fps(1920×1080,1280×960,1280×720,704×576,
604×480)

50Hz:25fps(704×576,704×288,352×288)
60Hz:30fps(704×576,704×288,352×288)

50Hz:25fps(1920×1080,1280×960,1280×720,704×576, 604×480,704×288,352×288)
60Hz:30fps(1920×1080,1280×960,1280×720,704×576, 604×480,704×288,352×288)

Color:0.002Lux@(F1.8,AGC ON);
BW:0.001Lux@(F1.8,AGC ON)

minimum photographic distance

100-1000mm(wide angle-tele)

Manual:0.1°-160°/s,
Preset:200°/s

8, Each One With 600s Memory or 1000 Orders

16x16, 32x32, 48x48, 64x64, 96x96
Date, Time, Week, Letters, PT direction

Laser&White Light

Full angle and adjustable, auto match with zooming

Network

Chrome8+,Firefox3.5+, IE8 and above

SDK,ONVIF,PSIA,CGI, GBT28181

Interfaces

8/2
support active preset/cruise/recording in SD card/NC/NO/FTP upload/Email

1ch input, peak value:2-2.4V[p-p],Impedance:1KΩ±10%;
1ch output, Linear level, Impedance:600Ω

1, 1Vp-p Composite Output (75Ω/BNC)

support
Micro SD/SDHC/SDXC card(maxsupport256G)

General

TCP/UDP/HTTP/MULTICAST/UPnP/DHCP/PPPoE/DDNS/NFS/FTP/NTP/RTP/RTSP/IPv6/SNMP/SMTP

Tripwire/Double Tripwire/Perimeter/Object Abandon/Object
Lost/Running/Loitering/Parking/Early warning/Crowd/People counting/Face detection/Audio tracking/Audio Abnormal Detection/Video
Abnormal Detection

IP66, TVS 6000V
GB/T17626.5 Class4 Lightning&Surge protection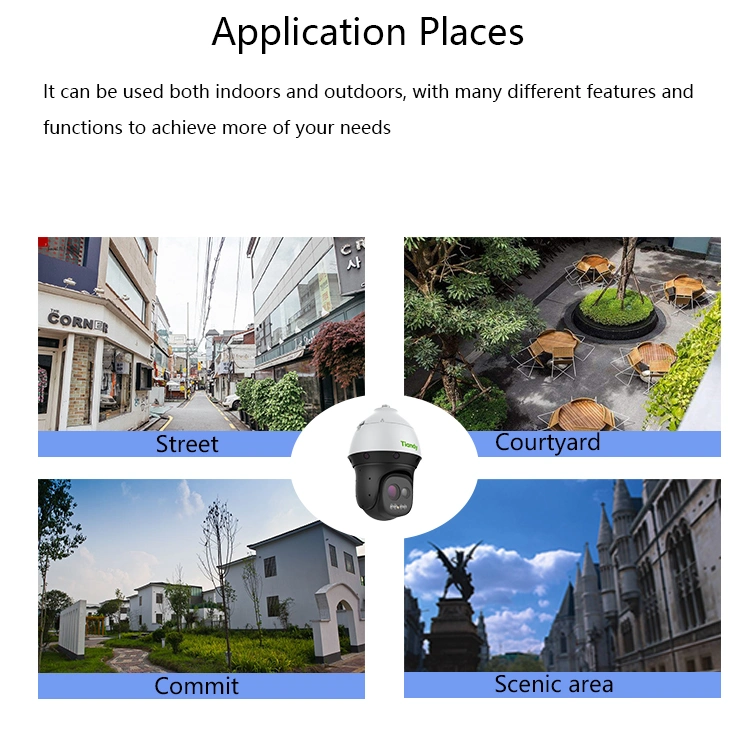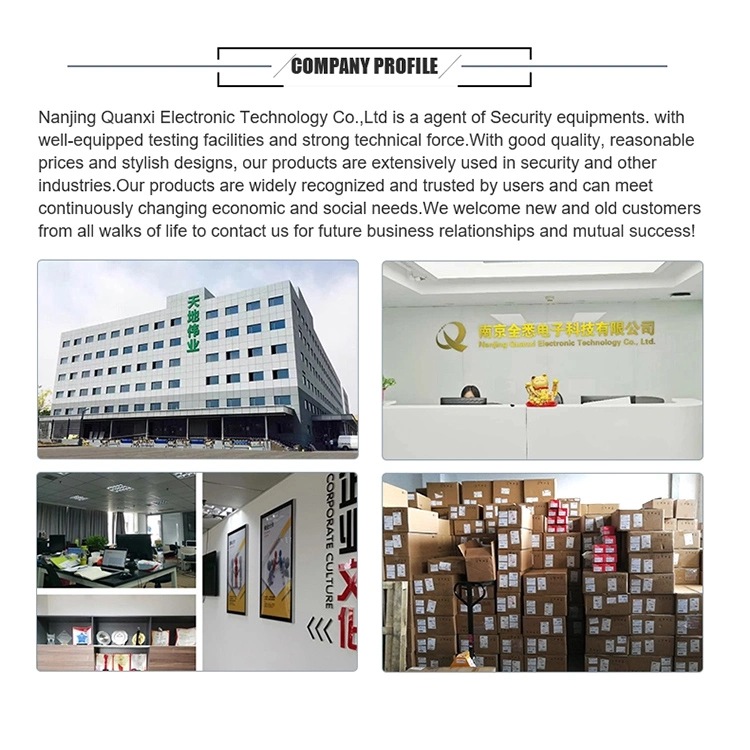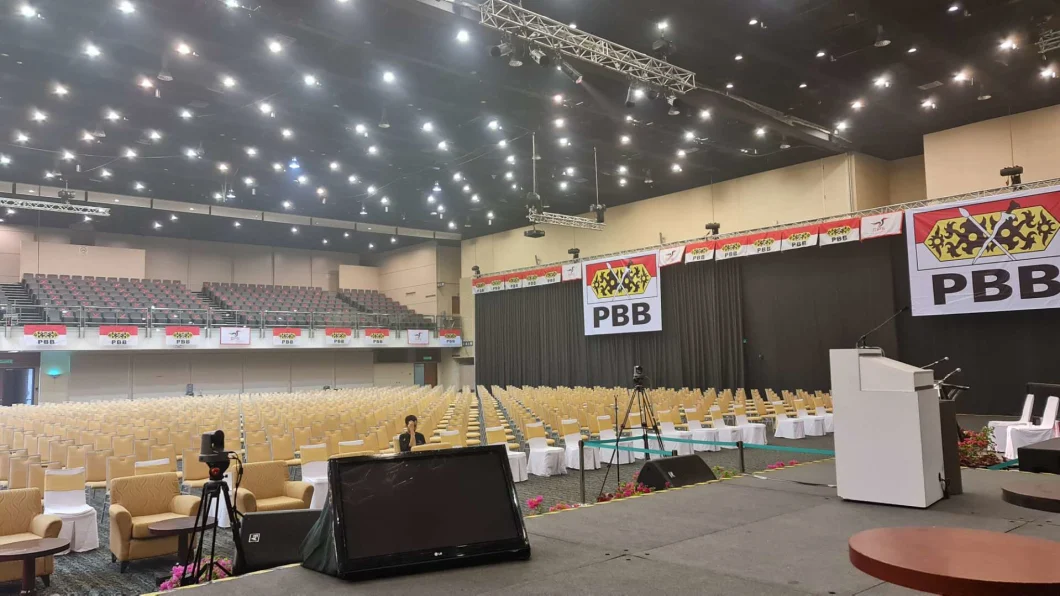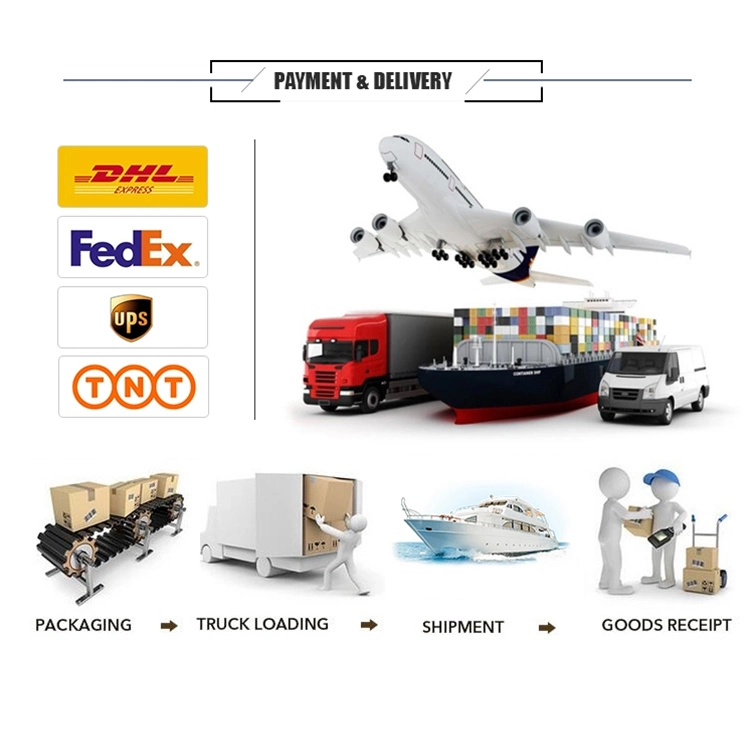 When will you ship my order?
Once we get confirmation for payment, we will ship order within 3~15 days.

Can I install the IP camera by myself?
Of course,the camera is flexible installed.And there is a user manual within box,you can contact us in need.

How is your after-sale service?
One engineers work more than ten years we will respond your technical support within 24 hours.
Do you support drop shipping?
Yes,your drop shipping is available..

How about warranty?
Three years warranty.