W3-C100(For lateral pipes DN 100-600) Fe
atures:
2
The versatile C100 is designed to be committed to undertake efficient lateral pipe inspection with a diameter range from 100mm to 600mm.The complete system features a HD camera sensor, a high-brightness led lights ring,a rugged crawler, a 15 inch touch control monitor,and a cable +reel system with cable length 100-300M customizable.
The camera head combines easy rotation control,auto leveling,and auto illumination adjustment to help engineer to observe pipe wall in details.The illumination system contains 14 high intensity led lights,and the lights can be dimmed both through wireless joystick and 15 inch monitor.The camera sensor features 540TVL CCTV video capturing and snapshots function,and 360-degree endless axial rotation together with 180-degree tilt function to focus the inspection on the fault section of the line.
This all-around C100 crawler is all what you really need for any kinds of inspections from sanitary relining inspection to gas line pinpoint leaking location-better priced,more advanced functions,less down time,and enhanced durability,yet with easy control interface.C100 has extension interface on the backbone for sonar,laser,and gas detector,ect,yet with a rugged tractor body.It can handle as much as 30KG load and traverse bend pipes to get to launch points.If desired,you can add auxiliary lights and camera-elevator to suit large pipes or you just want more well-proportioned illumination.
The 15 inch display and control monitor,integrated with win7 32bit system,is compatible with third party software for generating professional reports or data processing OSD to acquire and analysis data of pipe deformation,slopes or structure fracture.The LCD monitor can also be connected to internet via the WAN interface to active the GPS function or just to entertain yourself with videos or music online.And an overwhelming advantage is this system utilizes a 64GB SSD hard disk for data storage,which means less computer boot time,a faster video and /or picture database access,and an improved data safety.
Application Possibility:
Pipeline, Drain, Sewer, Duct, Chimneys, Machinery and Building Inspection;
Maintenance of Plumbing and Wiring behind walls
Advantages and parameters
CRAWLER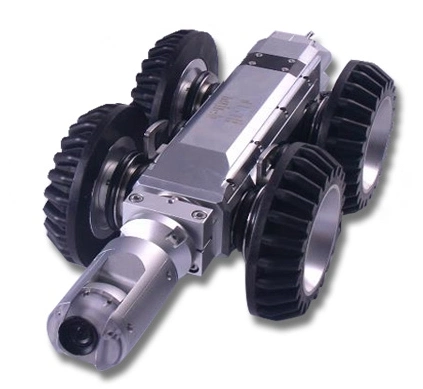 * For pipe DN100-600
* Steerable to climb over obstacles and bend pipes
* Turn Radius:down to 0.0"
* Sensors:pitch, slope, pressure
* Pressure Rating:1 ba
* Wheels:4
* Robust camera connector
* Material:aluminum
Camera Head With IP68 Waterproof Capacity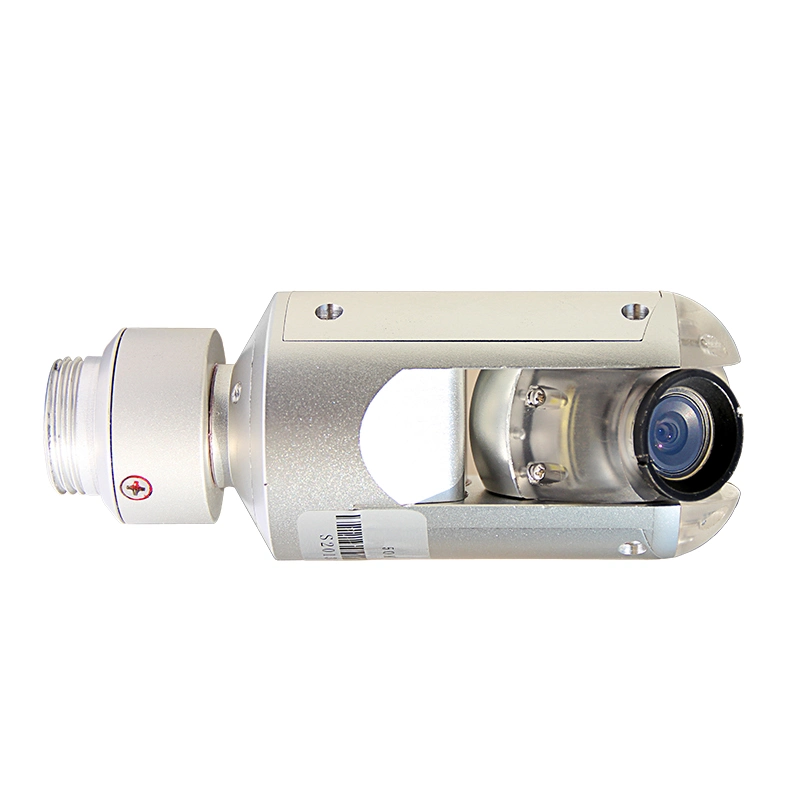 * Camera Sensor:color Sony
1/4 Inch
CCD
* Resolution:540TVL
* Pressure Rating:1 bar
* Focus:auto shutter;manual focus
* Illumination:controllable shadowless
* 14 led ring
* Articulation:180
-degree tilt, Infinite pan
* Sensing:pressure
* Size:diameter: 52mm;length: 123mm
* Weight:1.6 lb (0.5 kg)
* Material:aluminum, stainless steel
* Control the camera pan/tilt via touch screen
or wireless joysticks
Auto/Manual Cable Drum,controlled via wireless Joysticks.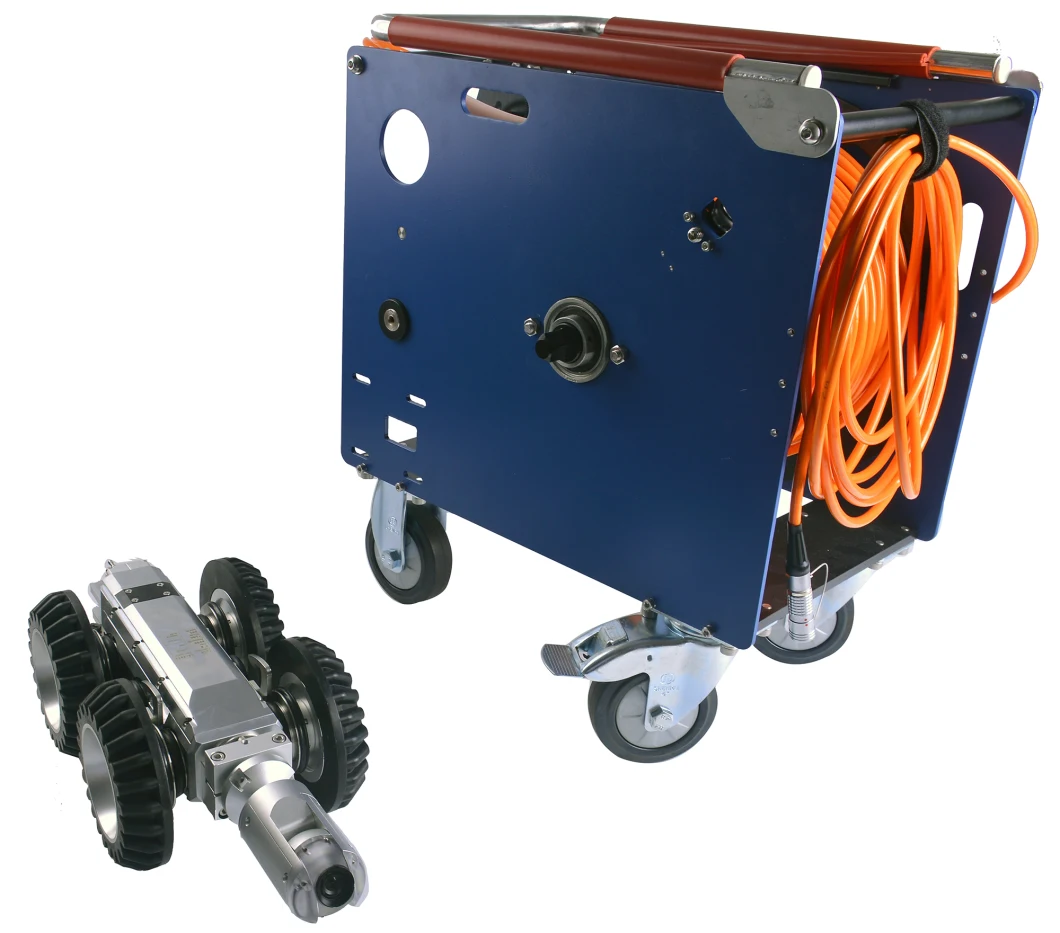 * Optional manual or auto cable winding up component;
* Material: Aviation aluminum+PC plastic
* Meter-counter:Distance constantly displayed on screen;erro<10cm
* Waterproof: IP53;
* Reinforced semi-rigid cable;
* Load capacity:150KG.OD:9mm
* 120m standard cable length(100-300m customizable)
* Size: 70cm*44cm*48cm
* With emergency stop switch
15
" Sunlight Presentable LCD Touch Monitor


* Record inspections to 64GB SSD
* Water-proof standard:IP53
* All featured software regulates crawler motion, cable reel
winding up and persistently measures distance ,inner pressure,slope,ect.
* Size:L426mm*W266mm*H52mm
Accessories:
1. Power supply adaptor box
2. Wireless Operation Control Box
3. Cable Reel handle
4. Accessories Work Bag

Optional Battery Pack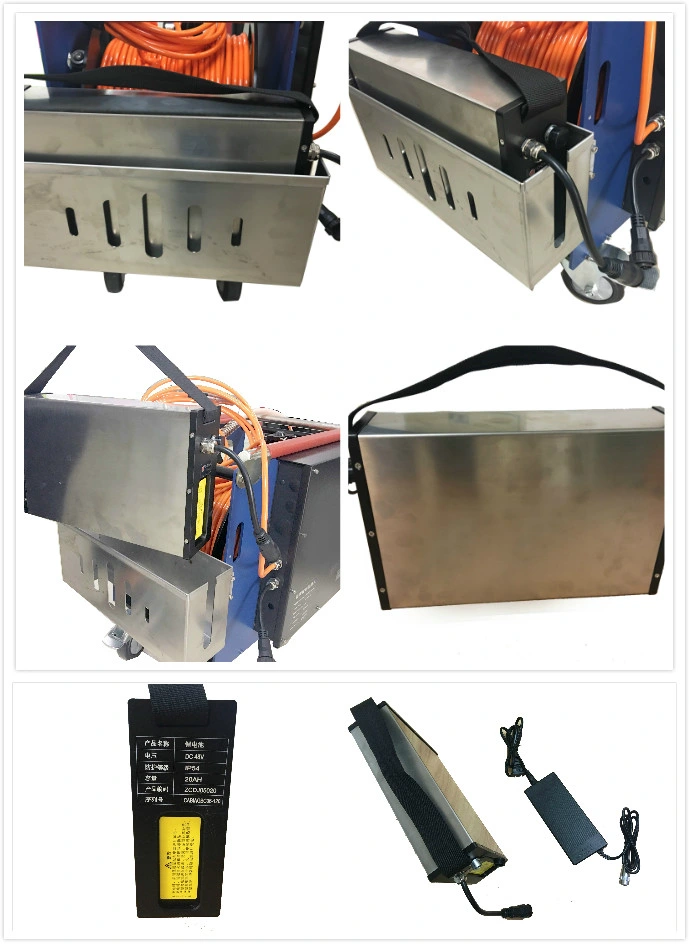 Specification:
| | |
| --- | --- |
| Product classification | Pan and tilt camera |
| Inspection range | approx.DN 100 and up |
| Dimension | ø 90MM |
| Weight | approx. 7 kg |
| Tractor operation | yes |
| Camera reorient | Yes |
| Focus | Manual focus |
| Lighting | 14 led lights. |
| Protection class | IP 68 |
| Permissible ambient temperature | -20 to 55 celsius |
| Test pressure | 10-15PSI |
| Pressure monitoring | Integrated pressure sensor continuously monitors inner pressure |
| Panning range | 180-degree endless pan |
| Viewing range | +/-120° |
| Angle of rotation | Continuous |
| Sensor (inch) | 1/4" |
| Sonde | no |
| TV standard | HD |
| Explosion protection | optional |
| Image resolution | 540TVL |
Our Service:
1. Any Inquiries will be replied within 24 hours.
2. OEM/ODM Available
3. All products will have been strictly quality checked in house before shipment.
4. All products have one year warranty.
5. Fast Delivery: sample order will be available within
15
days.