X5-HS CCTV Inspection Crawler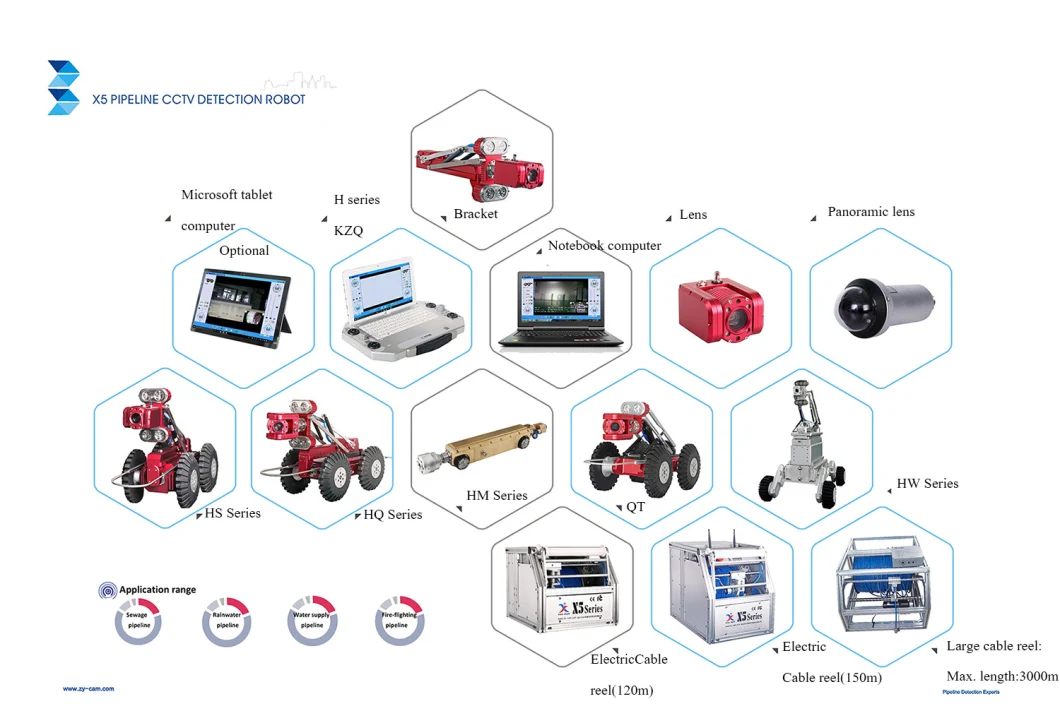 Product description:
X5-HS pipeline CCTV Inspection robot is a product designed on the basis of industrial personal computer (IPC) system, Using a laptop instead of the traditional controller. During the testing, defect pictures are acquired; afterward, a testing report can be obtained immediately. In addition, a pipeline gradient curve can be obtained in time during the testing to determine the sediment condition inside pipeline. Fish-eye lens is used, integrating "PipePano pipeline panorama testing video analysis software" , so as to generate the panorama image of inner wall of the pipeline, analyze and determine more finely and quantitatively (measurement on pipe diameter, crack width and so on).
Technical Parameters:
Main controller




-Available in any notebook computer as the control system




-Wireless control




-Real-time display date and time, travel distance, crawling attitude information and set the display font information, font size,background color.




-Front and rear sights display on the same interface at the same time.

Electric cable reel




-Standard cable length 150M




-Two-core cable, great reduce joint failure rate




-Automatic retractable cord

Crawler




-IP68 up to 10 meters water depth.




-Diameter: DN300mm--DN2000mm




-Material:brass,stainless steel,aluminum alloy;




-Electric lift frame, removable




-Forward 12 bright condenser LED lights; after the two highlight LED; All the light intensity continuously adjustable brightness

Camera




-IP68 up to 10m water depth




-High resolution 1920*1080




-Electric rotation,

360° radial limitless rotation,one clink for reset.




-Four LED lights




-Sensitivity 0.1Lux
Product application:
In collaboration with China-US Joint Center for Trenchless R&D, our products are widely applied to infrastructure development including geophysical prospecting, urban development, municipal construction, national defense, water conservancy and hydro power.
Products Details:
X5-HS pipeline CCTV Inspection robot is composed of crawler, lens, cable reel and main controller. There into,crawler can be overlapped with different models of lenses (i.e., rotary lens, direct-view lens, fish-eye lens) to response the operation orders of the main controller after connecting the cable reel with the main controller, such as crawler's advance, reverse, turning, stopping and speed adjustment; the lens bracket's lifting, fall, lighting adjustment; lens's horizontal or vertical rotation, focusing, magnification change, forward and backward switching, etc. During the testing, the main controller can display and record images from the lens and state information of the creeper in time, input the remark information on the touch screen.
Overseas Exhibition show: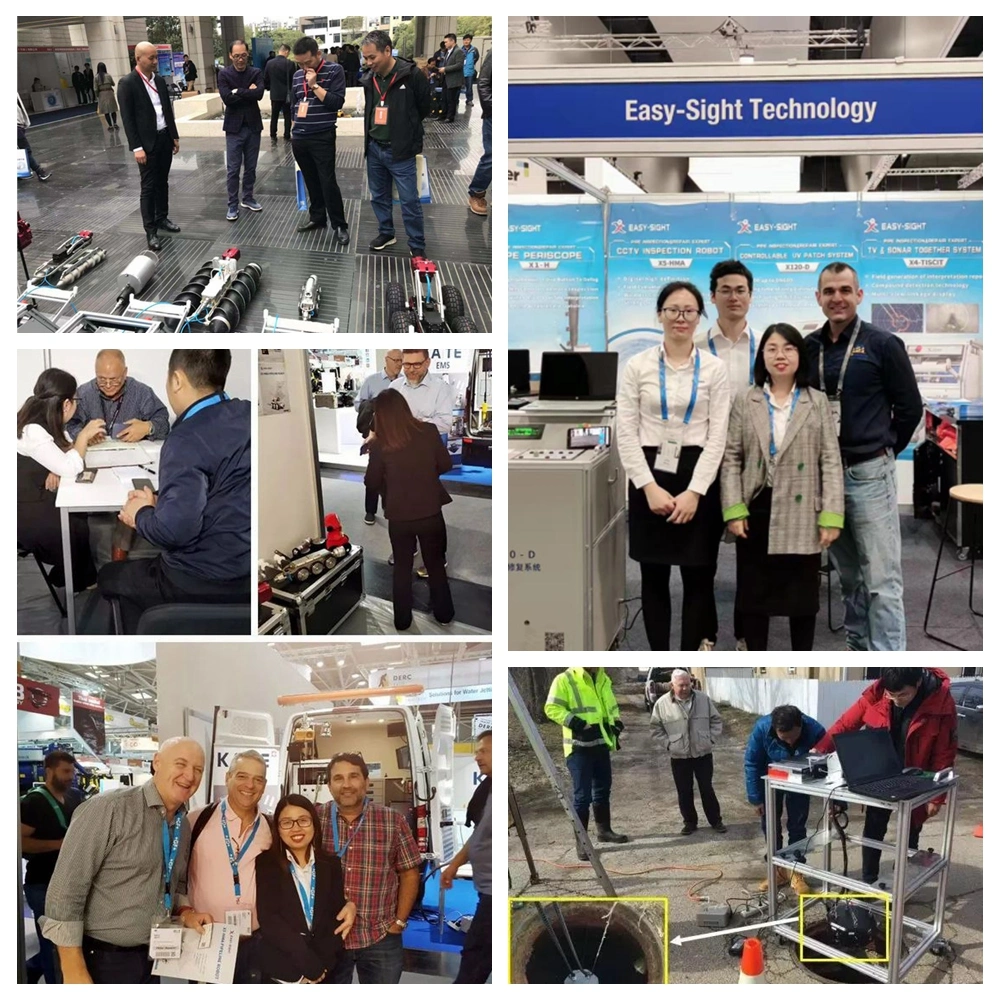 1.Light
The whole machine is light weight: light weight master control, light weight cable reel, and light weight crawler;
PC control: use laptop (tablet) as a host to control crawler;

2.Fast
Efficient detection: quick assembly on site, time-saving and efficient;
Quick assembly: fast data transmission with no need to connect cable;

3.Good
Good synchronization: synchronization display of the before and after video screens;

4.HD highlight: high definition camera with highlight combination light source;
Convenient

5.Stable performance: the whole machine is waterproof and explosion-proof;
Little effort with no worries : easy to disassemble, and master control has zero failure;
X5-HS CCTV Inspection Crawler Main Parts
X5-HS Crawler

Cable Reel






Suitable for pipe DN300-3000

6-wheel-drive

IP68 up to 10m water depth

Include pressure sensor, inclination sensor, roll and pitch sensor

Power supply: cable reel

Motor: 2x90W DC Speed: Max 32m/min Inclination: Max 45°

Light source: forward light 12X10W LED; backward 2X10W LED

Working ambient temperature: -10ºC~50ºC

Material: Brass nickel-plating stainless steel

Compatible with X5-H series camera

Dimension( LxWxH): 580x175x225mm

Weight: about 18.5 kg

Cable length: 150m

Motor-driven

2-pin cable, drawing anti-Kevlar 300 kg, imported polyurethane sheath, cable diameter <6mm, waterproof, wear, acid, corrosion.

Cable retracting automatically or manually

Accurate cable counter, devition within 1mm

Compatible with Easy-Sight X5-H series crawlers and X4 sonar inspection system

Protection class: IP63

Dimension( LxWxH): 570x395x475mm

Weight: about 45 kg( with 150m cable)






Main Controller

HD P&T Camera

The main controller is pre-installed with PipeCCTV pipeline inspection and evaluation report software, which can control and operate the robot, video surveillance and recording, fill in the inspection records on site and interpret by screenshots, automatically evaluate, calculate and output inspection and evaluation reports that meet industry standards and local standards. It equipped with PipeSight pipeline inspection video evaluation report software, which can perform playback interpretation and evaluation report output, and archive output data according to project classification, for archiving or GIS system data connection. Besides, it equipped with PipeTracer pipeline detection positioning and tracking software, Draw pipe bottom slope curve and pipeline path curve in real-time measurement, and can derive longitudinal section diagram of pipeline deposition status.

Pixel quality: ≥2 million pixels

IP68 up to 10m water depth

Working ambient temperature: -10ºC~50ºC

Light source: 4x 3W LED light

The radial rotation 360°,horizontal rotation ±135°,one click to reset

10X optical, 12X digital

Laser measurement for crack

Lens: color 1/3", 2592*1520, CMOS, viewing angle 6.7°-68°,sensitive 0.1 lux, auto-focusing

Dimension( LxWxH): 155x95x90mm

Weight: about 1.5kg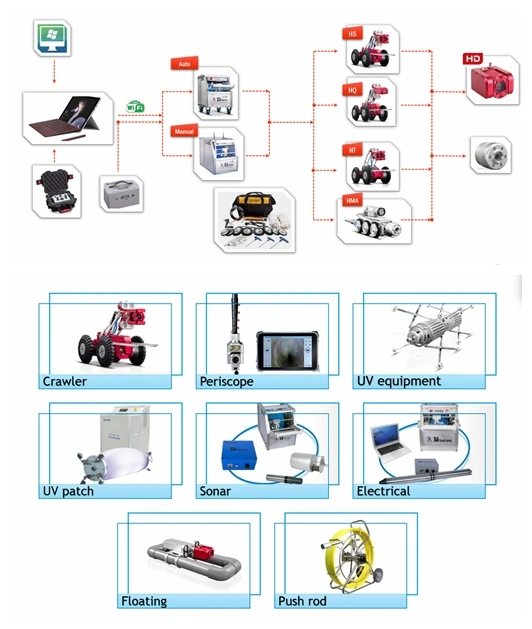 1.After -service:We firmly believe that depending on the abundant strength, advanced equipment, perfect detection method, stable technology and outstanding professionals as well as our good faith and excellent service, we will certainly bring you satisfactory returns.
2.Technical help:Wuhan easy-sight Technology Co., Ltd provides pipeline detection,maintenance, repair and technical services, which focused on providing efficient and environmentally friendly drainage network solutions.
3.Warranty policy: The warranty time is 12 months counting from the date on which the commodity arrives at the port of destination, and maintain is lifelong. During this time, if any work piece dose not work well and which is not caused by worker and can not control naturally, the supplier provide it free of charge, or customers can return it back ,we will maintain it well.
4.Quality: Quality of products will be strictly checked and every machine will be test to ensure it can works well before packaging.

5.Lifelong Services: We provide lifelong services for all the products we sold out, and supply the spare parts with competitive price.

6.Language: We have a professional sales team who are good at English to ensure zero communication barriers.

7.Detailed Operational Manual &Training CD in English Version will be offered. We also provide free training if you worried operation matters, welcome you visit our factory, our professional technicians will teach you how to use the machine in correct way.



8.OEM order is welcomed , and we can print the customer brand logo on the product free of charge.



FAQ(Frequently Asked Question):


Q: What's the package?
A: We have standard plywood packing case. For the outside, we adopt wood craft case. In the middle, the machine is covered by foam, to protect the machine from shaking. For the inside layer, the machine is covered by thickening plastic bag for waterproof.

Q: Will the package damaged during transportation?
A: Our package is considerate all the damage factors and make it to be safe, and our shipping agent have full experienced in safe transportation. So please don't worry, you will receive the parcel in good condition.

Q: How to install and run the machine?
A: Our technician have installed the machine before shipping. For some small parts installation, we will send detail training video, user's manual along with the machine. Most customers can learn by themselves.

Q: How can I do if the machine goes wrong?
A: If confronted with such problems, please contact us asap and do not try fix the machine by yourself or someone else. We will response within 24 hours as quick as we can to solve it for you.