HP-TC41021-S Long-Range Zoom Thermal Camera

HP-TC41021-S long range zoom thermal camera
is based on the latest uncooled IR technology and continuously IR optical zoom. User could get a best imaging details with 336*256/640*512 resolution, advanced digital circuit and image processing algorithm. Special design of 10X optical zooming lens have detection distance 18km, suit for both seeking and watching. One integral aluminum alloy housing make sure the camera IP66 sealing rates and works well in harsh outdoor conditions.
TC41021 thermal camera integrates high sensitive FPA sensor, electronic and optical systems, could penetrate fog/dirt/rain/snow and image 24 hours.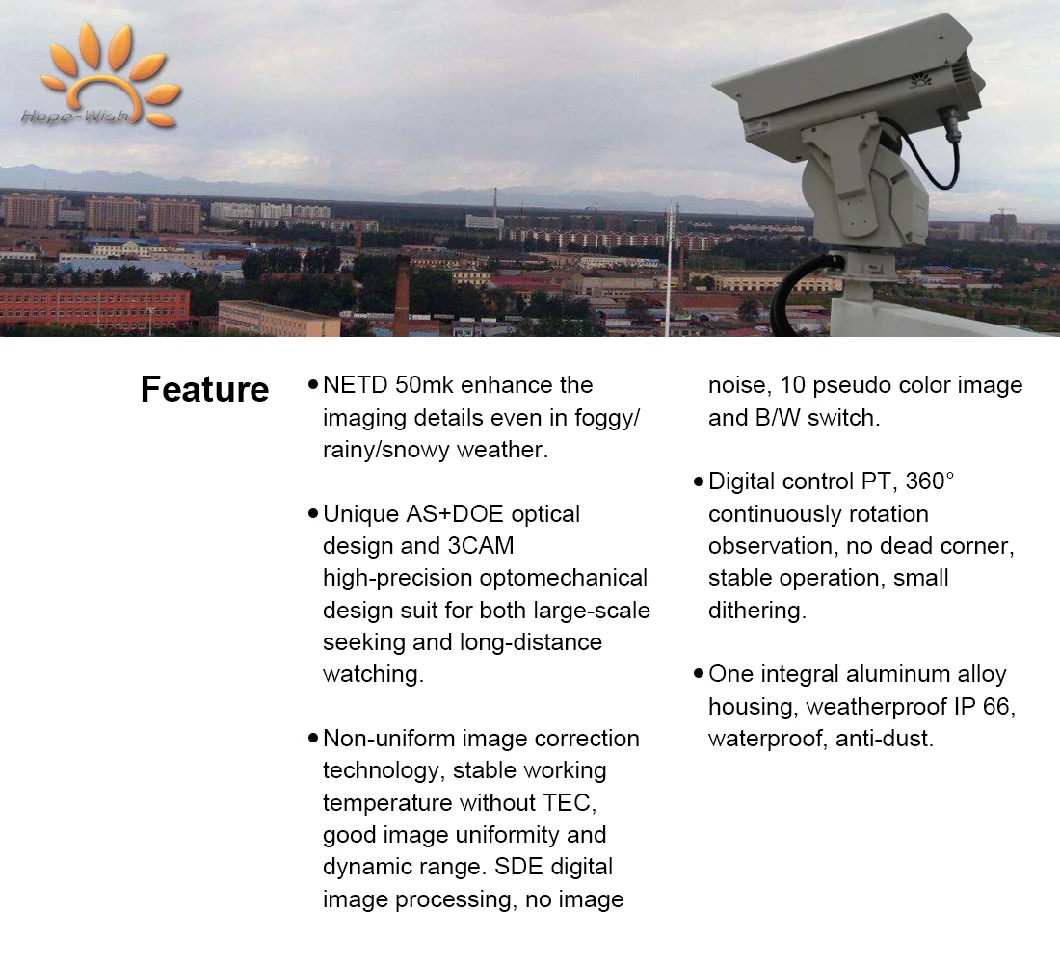 Oilfield safety, railway&freeway security, river&airport security, forest fire prevention, city safety.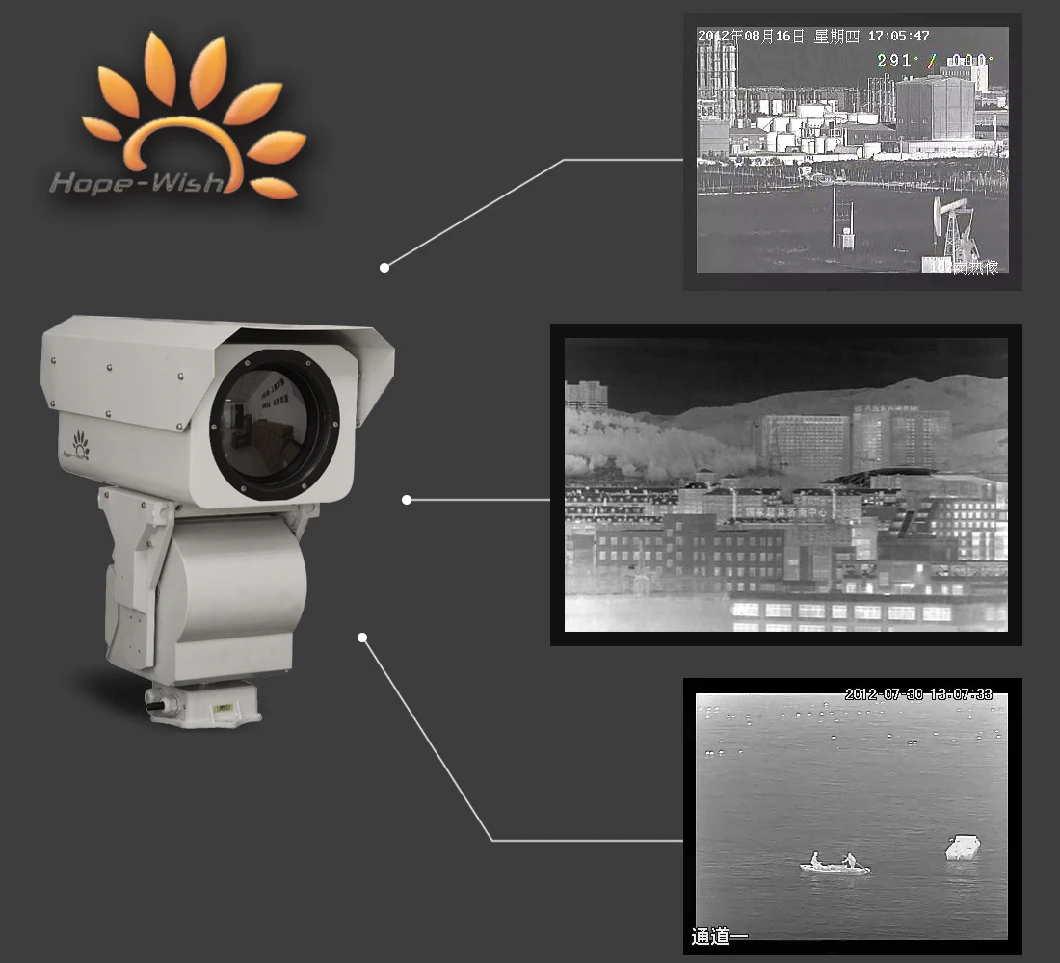 Technical specification
TC41021- S

Detection

Vehicle: 17400m

Human: 6800m

Recognition

Vehicle: 4800m

Human: 1800m

Sensor

1,Detector:5th generation UFPA Vox Detector ;

2,Resolution:336×256,(640X512 optional)

3,NETD:50mK(@25ºC F1.0)

4,Spectral range:7.5~14μm

NETD

50mK(@25ºC F1.0)

Focal length

1,Length: 21~210mm

2,FOV:16°×12°~1.6°×1.2°

3,Motorized zoom,focus(auto focus optional )

4,AS+DOE advanced optical design, high infrared transmission;

5,Applied 3CAM high precision design;

IFOV

0.08~0.85mrad

Image processing

1. stable operational temperature, starting time less than 4 seconds

2. SDE digital image processing

3. 10 pseudo color and B/W, B/W inverse

4. AGC

5. 2X digital amplification

Housing

1,Material:aluminum alloy housing,waterproof;

2,Structure:Integral single window design ;

3,Surface:PTA coating, anti sea water corrosion;

4,Sealing rate:IP66

5,Built-in temperature controller,thermal balance design;

6,Interface:aviation waterproof connector ;

PTZ(optional)

1,Load:50kg military level digital PT ;

2,Angle:pan 0~360°,tilt -45°~+45°

3,Speed:0.01~30°/S high precision variable speed control and locking ;

4,Preset:80 presets,support lens zoom and focus memory,variable speed scanning 0~30°/S ,support apple peel scanning function;

5,Protocol:Pelco-P,Pelco-D

6,Baud rate:2400,4800,9600,19200 optional ;

Consumption, weight

1,Consumption(PT included):min.40W,max.120W

2,weight(PT included):≤40kg

Interface

1. RS-485(PELCO D protocol, baud rate 2400bps), RS-232(option)

2. Remote OSD setting

3. PAL/NTSC video output

4. AC24V( DC12V option)

5. Waterproof connector

Environment indicator

1,Working temperature:-25ºC~+55ºC(-40ºC optional)

2,Storage temperature:-35ºC~+75ºC

3,Humidity:<90%

4,Anti-shock:0.2g(GB/T15211-20135.4 harshest level 2 standard)

5,Anti-resistance:15g(GB/T15211-20135.3 harshest level 3 standard)

6,Anti-lightening:power 4000V,signal 2000V

7,Anti salty:PH6.5~7.2,continuous sprarying 48 hours ;

8,Protection rate:IP66
Why choose us?
1. We are a professional measuring & analysis instrument manufacturer located in China and can provide you with 100% guaranteed quality perfect products, excellent services, fast leading time, and the most competitive factory price;

2. We have a rich-experienced, hi-tech, good communication skills team can provide you with 24hrs after-sale services, promptly tech supports to teach you get a good command of knowledge and skills to run the machines well.

3. We have independent core technology of thermal imaging and laser infraed imaging.

4. We are specialized at manufacturing night vision camera & system solution.

5. We devote to night vision field and related technology to supply best product & service to customers worldwide.


FAQ
Q1:Compare to other companies, what superiorities do you have?
A1: We have independent core technology of thermal imaging and laser infrared imaging, we are specialized at manufacturing night vision camera & system solution. We devote to night vision field and related technology to supply best products & service to customers worldwide.

Q2: Do you accept OEM/ODM?
A2: Yes! If you have OEM or ODM plans , highly welcome to negotiate with our sales person, we can provide you guaranteed products, and pretty competitive prices.

Q3: Where is your loading port?
A3: Beijing; Shanghai; Qingdao; Jinan